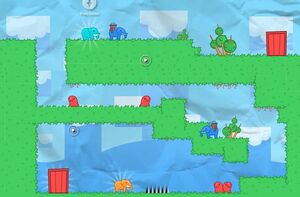 The Grasslands area connects to every other area, for it is in the middle of the world. The Grasslands area is composed of seven different rooms;
Area 4
,
Area 11
,
Area 12
,
Area 15
,
Area 16
,
Area 19
, and
Area 34
. (Area 34 isn't actually connected to the rest of the Grasslands.) In total, there are ten elephants in the grasslands-- more than any other area. This is due to the fact that Area 15 alone has five elephants in it. The most common enemies in the Grasslands include
Crawlers
,
Zippers
, and
Droppers
. There is also one
Nudger
in Area 19, but other than that, these are the only types of enemies that appear in the Grasslands.
Other areas
Edit
There isn't just the Grasslands area, there are more. There is the Clouds, the Ruins, and the Forest, and the Caves.